Thanks to the Absorbable Pdo Sutures technology, the nose can also be augmented non-surgically using polydioxanone (PDO) threads that are 100% bio-compatible and absorbable by our bodies.Also known as a `lunchtime nose job`, PDO Nose Thread Lift is a treatment that can be completed in under an hour. Because of the minimal downtime, patients can resume their daily activities thereafter.After numbing and application of local anaesthetic, doctor will place fine threads along the nasal bridge for the height and the septum to give projection to the nose. The threads are placed under the skin to elevate the nose bridge and tip while stimulating collagen formation to provide sustainable lift for the nose.The number of threads required varies according to individuals. An initial consult with the doctor is required to determine the current shape of the nose and the desired outcome before he can decide the number of threads required.Results are immediately visible as the threads provide the scaffold for the nose.
DOES NOSE THREAD LIFT HAVE SIDE EFFECTS?
As the PDO threads are bio-absorbable, they will be broken down in 8-12 months after the treatment. PDO is an essential material used by surgeons for their surgical sutures.
It is normal to experience some soreness and swelling immediately after the treatment. However, these side effects will subside in a few days.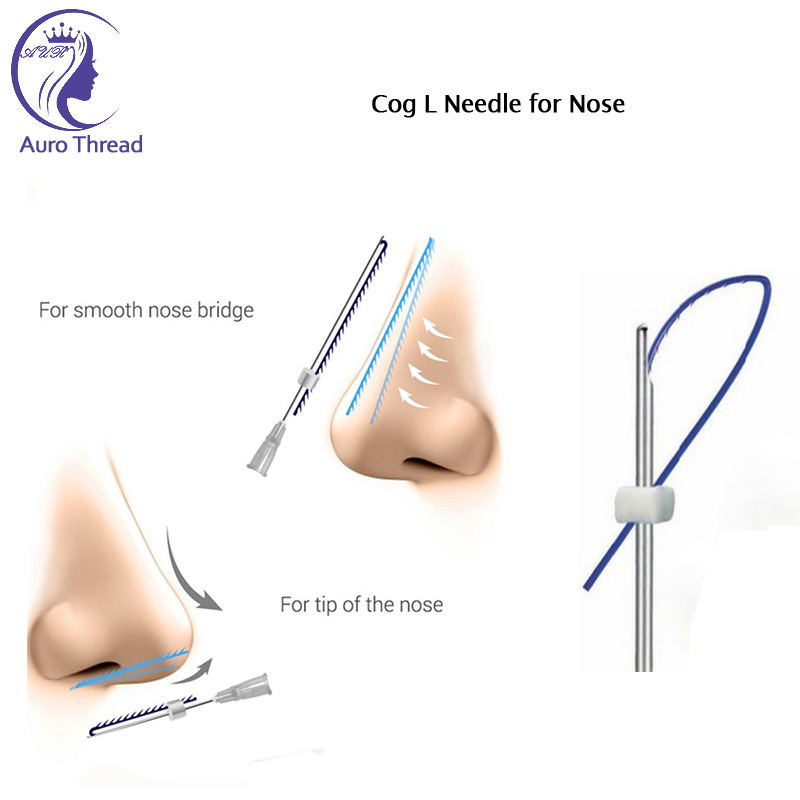 Advantages of Nose Thread Lift Korea
1. Giving greater definition to the bridge while still looking natural,
2. Creating a higher and sharper nose bridge without unnatural widening
3. Lifting the tip to make it sharper in a way nose tip filler cannot do,
4. Reducing the nose tip ala for a smaller looking nose tip.
HOW LONG DOES NOSE THREAD LIFT LAST?
Results from a Nose Thread Lift Treatment can usually last for about 8 months to 1 year. If the treatment is repeated 9 months after the initial treatment, you can expect the result to be longer-lasting. With stimulation of collagen in the nose, some permanent lifting can be expected.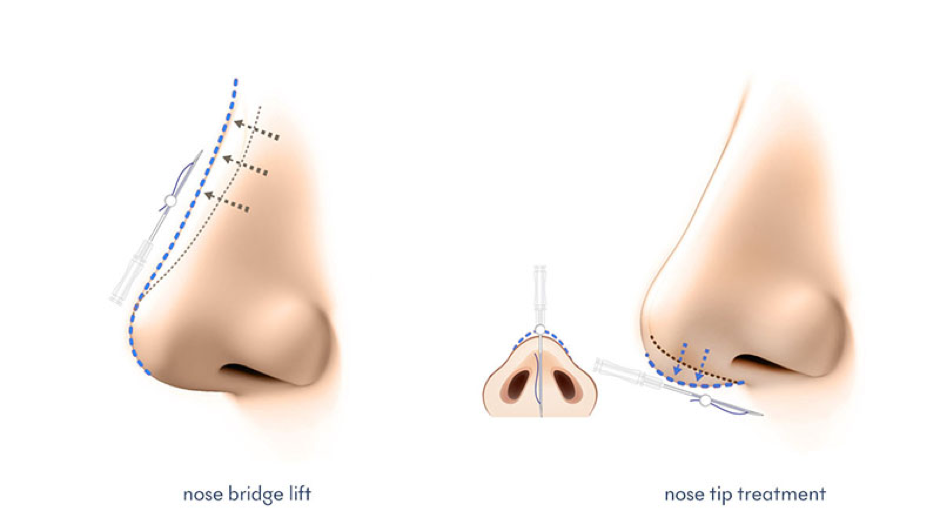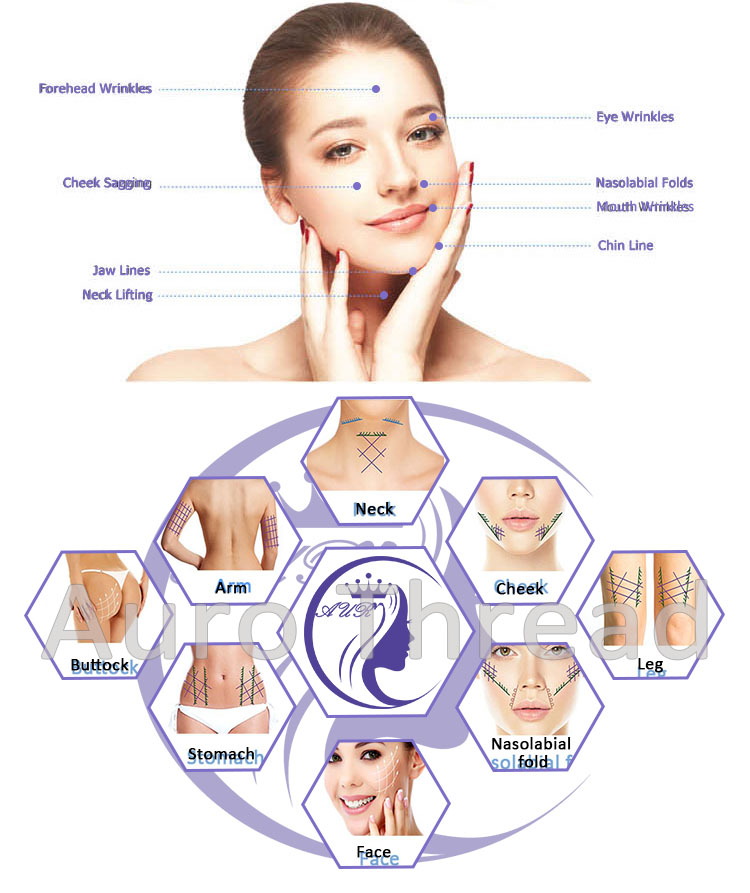 How do the Threads look like?

There are several different threads for different areas of the face and neck. For the nose, there are two variety of threads, one to enhance the nose bridge, and the second to elevate the tip of the nose. On closer inspection, you may notice innovative cogs on these threads. They serve a clever function as once inserted, these nose threads act as a scaffold over which your body's own collagen matrix is encouraged to grow. This immediately contour, defines, lifts and shapes your nose to your desired profile.
If you desire a higher, sharper and straighter nose without invasive surgery, Nose Threadlift may be your answer. Simply enhancing your nasal proportions may also boost your overall beauty potential.
MONO
Needle Size (G)
Needle Length (mm)
MONO Screw
Needle Size (G)
Needle Length (mm)
26G
30mm,60mm,90mm
26G
30mm,60mm,90mm
27G
25mm,38mm,50mm
27G
25mm,38mm,50mm
29G
25mm,38mm,50mm,60mm
29G
25mm,38mm,50mm,60mm
30G
25mm,38mm
30G
25mm,38mm
Tornado
Needle Size (G)
Needle Length (mm)
Tornado Screw
Needle Size (G)
Needle Length (mm)
26G
38mm,50mm,60mm,90mm
26G
38mm,50mm,60mm,90mm
27G
38mm,60mm
27G
38mm,60mm
29G
60mm
29G
60mm
COG 3D
Needle Size (G)
Needle Length (mm)
COG 4D
Needle Size (G)
Needle Length (mm)
19G
100mm
19G
100mm
21G
60mm,90mm
21G

60mm,90mm

23G

60mm,90mm

23G

60mm,90mm

COG 3D L needle
Needle Size (G)
Needle Length (mm)
COG 4D L needle
Needle Size (G)
Needle Length (mm)
18G
100mm,120mm
18G

100mm,120mm

19G
100mm
19G

100mm

21G
50mm,60mm,90mm
21G

50mm,60mm,90mm

COG 3D Blunt cannula
Needle Size (G)
Needle Length (mm)
COG 4D Blunt cannula
Needle Size (G)
Needle Length (mm)
18G
100mm,120mm
18G

100mm,120mm

19G

100mm,120mm

19G

100mm,120mm

Nose thread
Needle Size (G)
Needle Length (mm)
Eye thread
Needle Size (G)
Needle Length (mm)
19G
38mm,50mm,60mm
30G
25mm,38mm
21G
50mm,60mm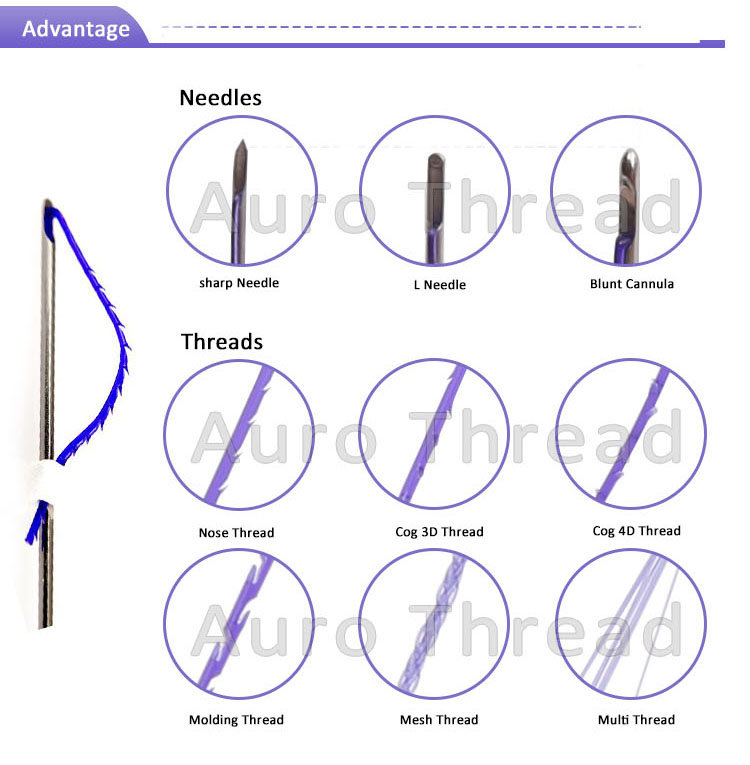 How do PDO Threads work?
The PDO Thread is inserted into the skin through a very fine needle or cannula causing an artificial wound, inducing a healing effect improving the skin. Creating upper and lower contraction between skin and muscle, or skeletons, the thread causes a lifting effect. When located in solid tissue, near bones or ligament, the fixed tissue has stronger adhesion effect to the skin.
Different lengths and thicknesses of thread are used for different areas of the face and body. Short strands of threads are often used to treat fine lines around the eyes, while thicker strands can be injected into the muscles of the forehead as an alternative to Botox. For more information about which threads will be most suitable for the procedures you undertake, please get in touch.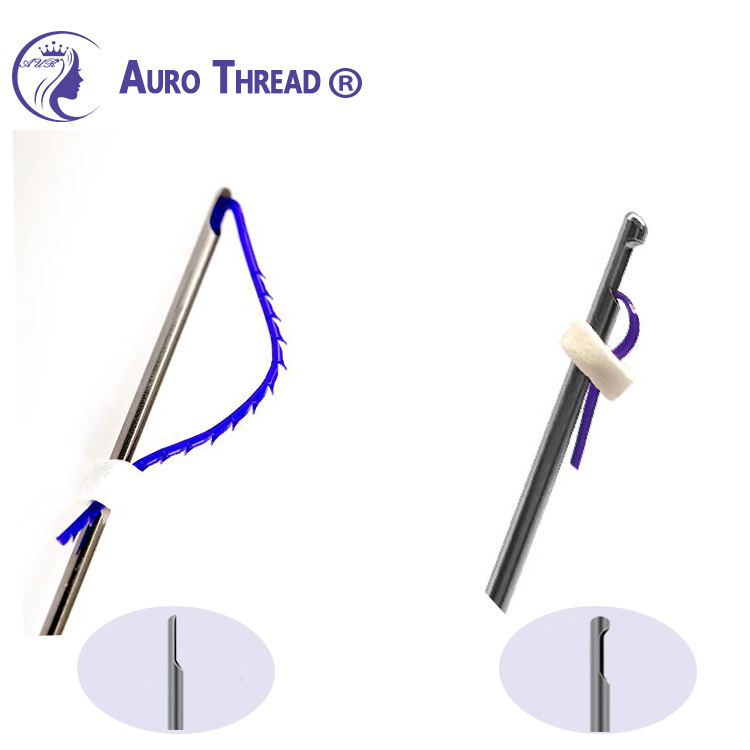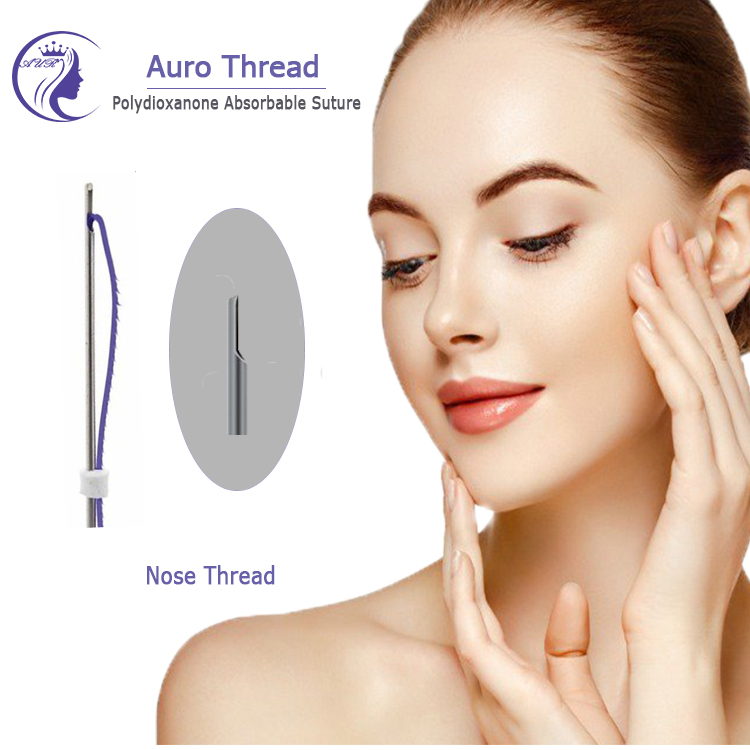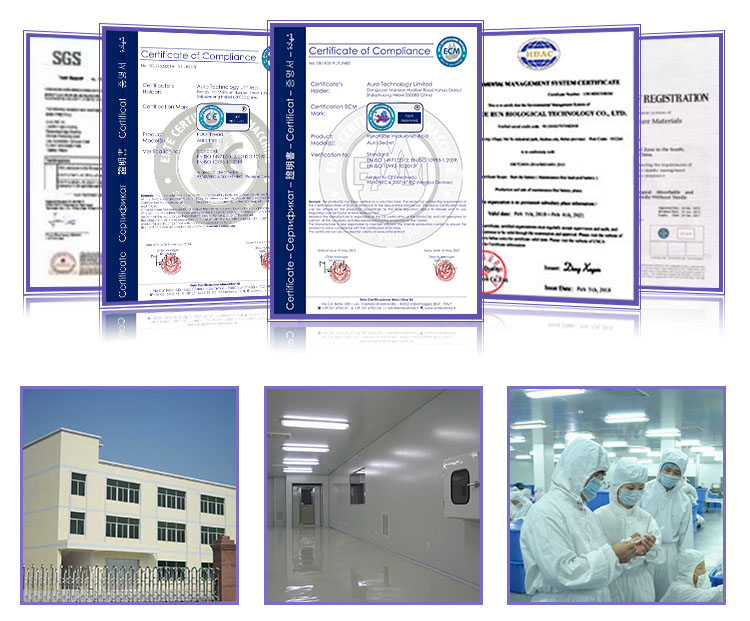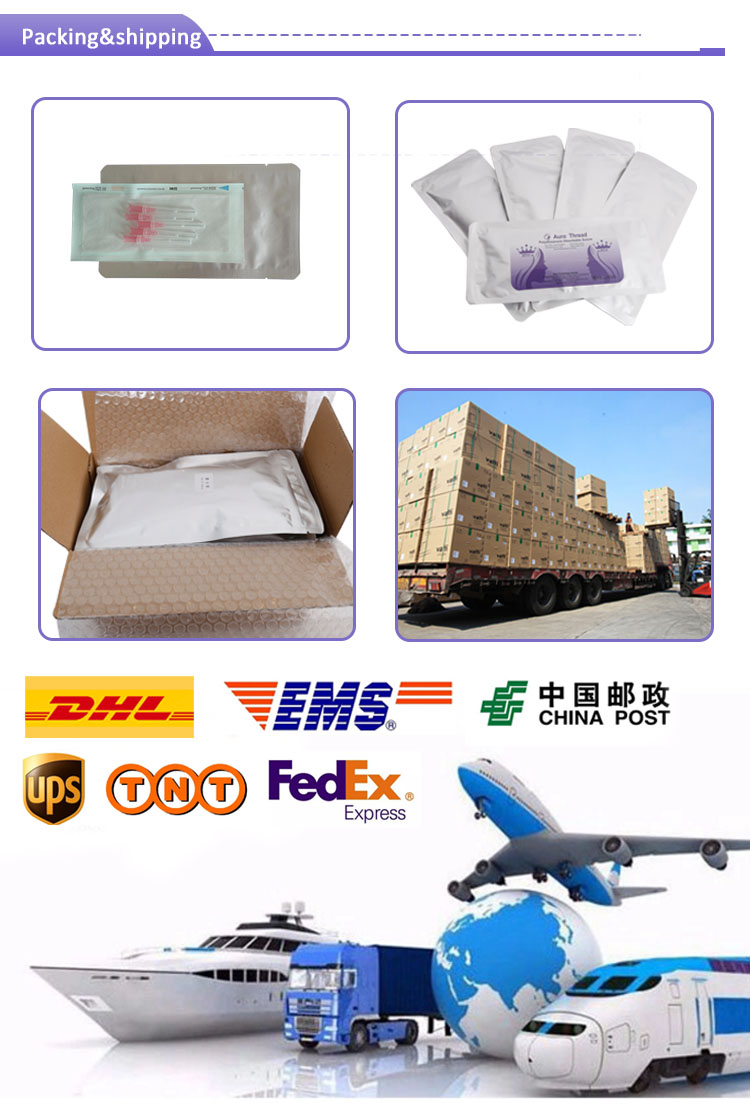 1. How long does a Face Pdo Thread take?
A typical Medical PDO Thread Lift procedure takes as little as one hour, but it depends on the number of threads the doctor uses and the areas being treated.
2. What happens after the PDO Thread Face Lift procedure?
After the procedure we will provide you with aftercare instructions to follow. Most patients experience some mild swelling and bruising, but this should settle quickly.
Recovery time is usually less than one week, although strenuous exercise should be avoided for 2 to 3 weeks.
3. How long do the Pdo Thread Lifting results last?
A thread lift`s lasting power depends on the age of the patient at the time of procedure and how much sagging the Pdo Thread With Face Lifting Needle has corrected. It should be noted that sagging will return over time, but many doctors report that the results last for anything between 2 and 3 years. To extend the results it is possible to have additional threads inserted and your doctor can advise you when this is required.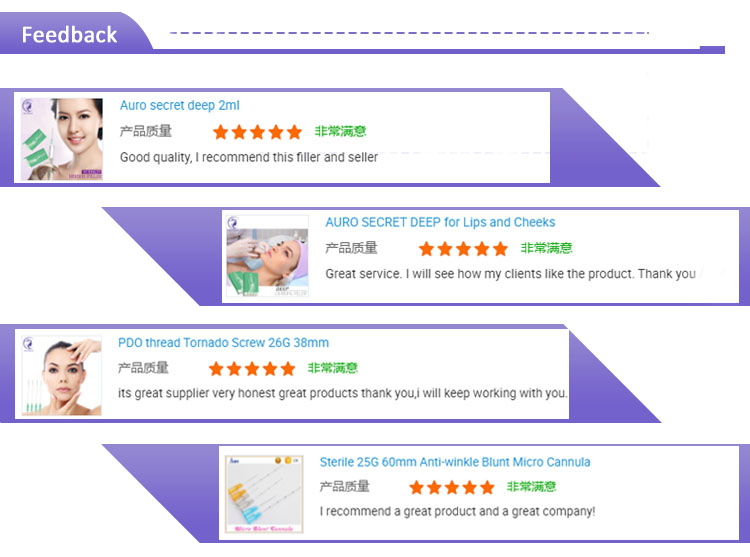 Looking for ideal Nose Thread Lift Manufacturer & supplier ? We have a wide selection at great prices to help you get creative. All the Nose Thread Lift Korea are quality guaranteed. We are China Origin Factory of Absorbable Pdo Sutures. If you have any question, please feel free to contact us.
Product Categories : PDO Thread > Polydioxanone Absorbable Sutures