With the assistance of a syringe, the Ha Facial Filler into the middle to deep portion of the patient` s dermis. This layer of skin just below the surface contains blood vessels, connective tissues, sweat and oil glands, and nerve endings. The lifting and smoothening effect of the hyaluronate sodium treatment is evident around one week later. Injectable Hyaluronic Acid offers long-lasting results, with most people reporting that they do need a repeat treatment for six to nine months. At this point, the body naturally absorbs the biocompatible compound and the effect of the treatment wears off. The original impact may last even longer for patients.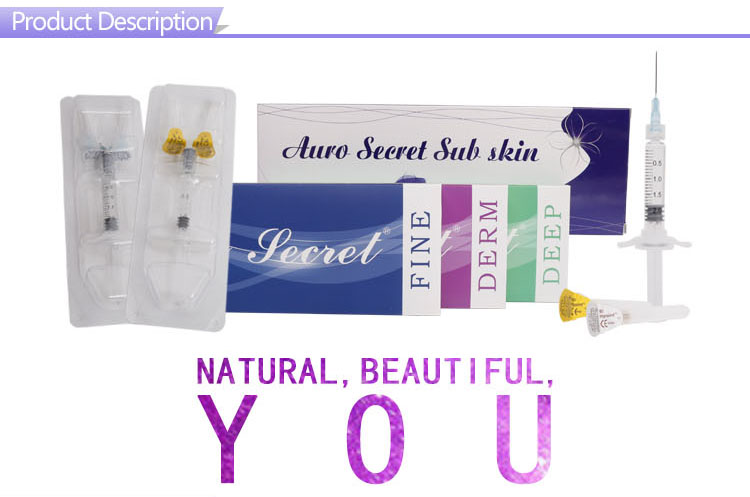 Ampoule Injection is a substance that is naturally present in the human body. It is found in the highest concentrations in fluids in the eyes and joints. The hyaluronic acid that is used as medicine is extracted from rooster combs or made by bacteria in the laboratory.
People take hyaluronic acid for various joint disorders, including osteoarthritis. It can be taken by mouth or injected into the affected joint by a healthcare professional.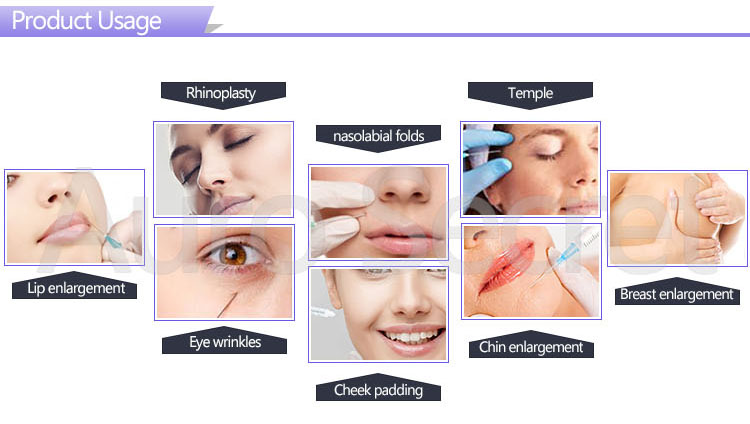 The FDA has approved the use of hyaluronic acid during certain eye surgeries including cataract removal, corneal transplantation, and repair of a detached retina and other eye injuries. It is injected into the eye during the procedure to help replace natural fluids.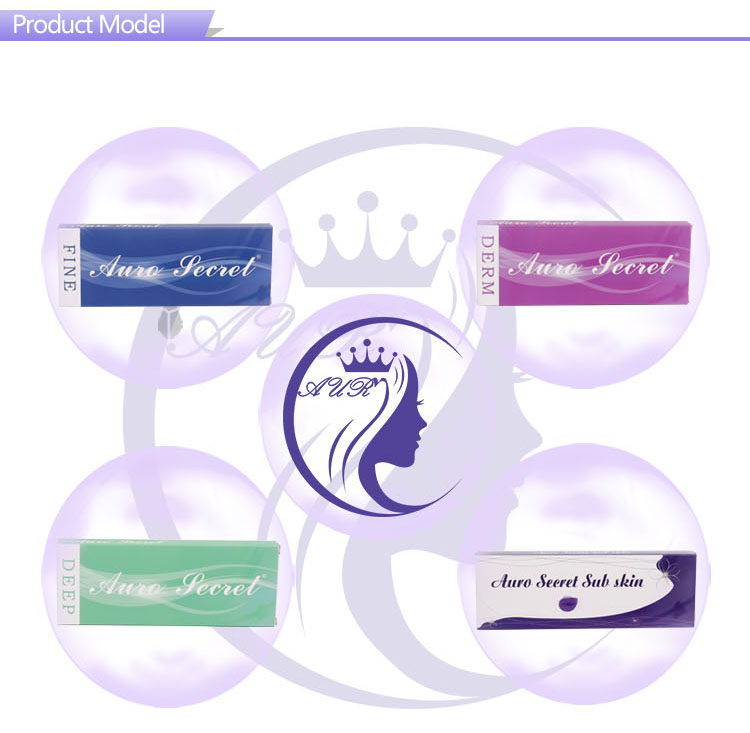 Auro Secret Fine

Needle size: 30G,Volume:1ml/2ml

Treatment:

With the smallest particles for the correction of very thin,superficial lines.

Injected in the upper part of the dermis.

For correction of thin superficial lines,such as worry lines,periorbital lines,perioral lines.




Auro Secret Derm

Needle size: 30G,Volume:1ml/2ml

Treatment:

Medium particle size for moderate wrinkles.

Injected in the middle part of the dermis.

For treatment of moderate wrinkles,such as glabella,oral commissures.

Lips fullness,pouting and vermilion border.




Auro Secret Deep

Needle size: 27G,Volume:1ml/2ml

Treatment:

Larger particles for deep folds.

Injected in the deep layer of the dermis and/or the surface layer of the subcutis.

For correcting deep folds,creating fuller lips and shaping facial contours,such as cheeks and chin.




Auro Secret Subskin

Needle size: 23G,Volume:10ml

Treatment:

Largest particles for breast and buttock.Injection for the breast and buttock augmentation.

Injected in the deep dermis or subcutaneous tissue shallow.

For the local depression,soft tissue filler,also can be used in rhinoplasty.




HA concentration:20mg/ml

Approximate number of gel particles ml: 200,000

Particle size(mm): 0.10-0.15

HA origin: Non animal

Storage: room temperature

Duration: 6-18 months




Hyaluronic acid is also used as a lip filler in plastic surgery.

Some people apply hyaluronic acid to the skin for healing wounds, burns, skin ulcers, and as a moisturizer.

There is also a lot of interest in using hyaluronic acid to prevent the effects of aging. In fact, hyaluronic acid has been promoted as a "fountain of youth." However, there is no evidence to support the claim that taking it by mouth or applying it to the skin can prevent changes associated with aging.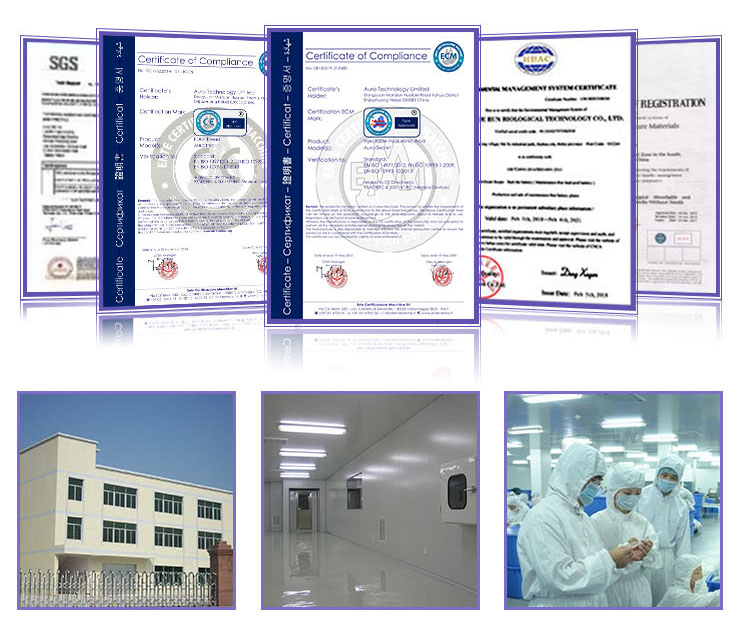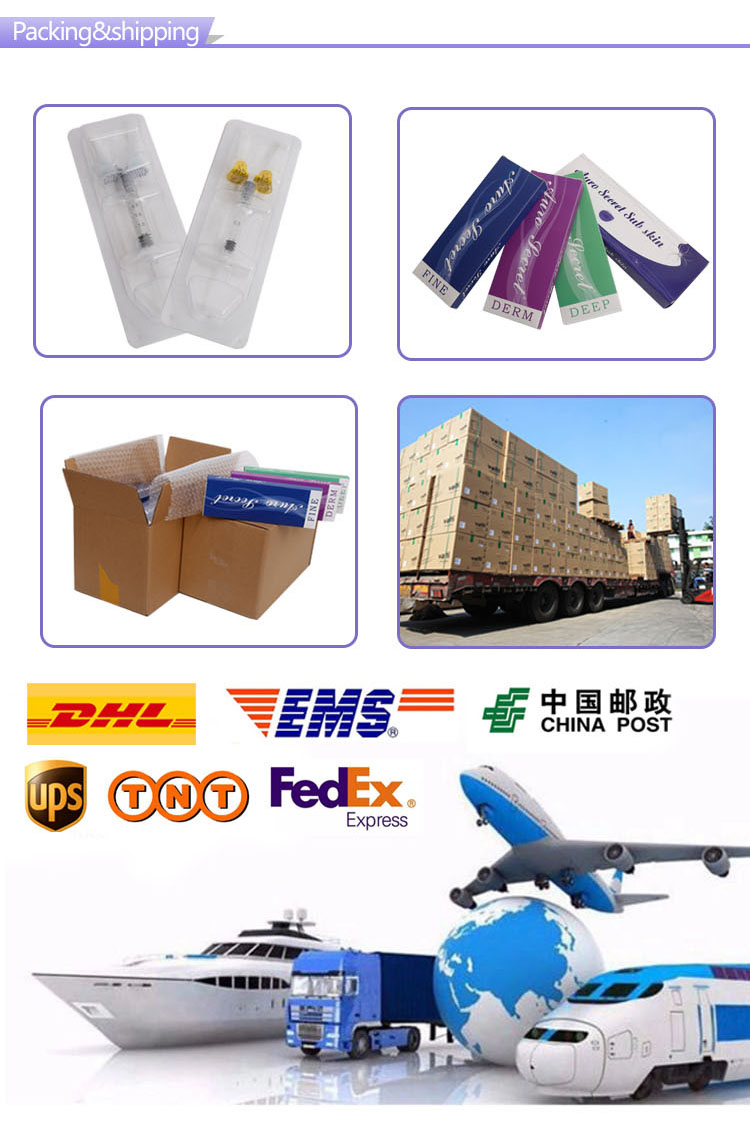 How does it work?
Hyaluronic acid works by acting as a cushion and lubricant in the joints and other tissues. In addition, it might affect the way the body responds to injury.
As we age, our skin loses the ability to preserve moisture, resulting in the visible loss of firmness, pliability, and plumpness. Hyaluronic acid swoops in with the ability to replenish moisture that is crucial to having younger-looking, supple skin.
At the same time, it revitalizes skin`s outer layers so they look and feel softer, smoother, and, glowingly hydrated to instantly improve the appearance of fine lines and wrinkles.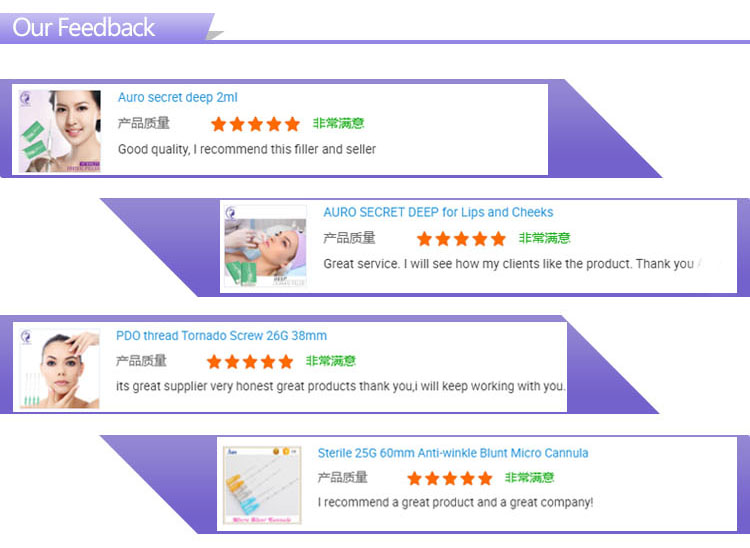 Looking for ideal Filler Injection for Face Manufacturer & supplier ? We have a wide selection at great prices to help you get creative. All the Filler Hyaluronic Acid are quality guaranteed. We are China Origin Factory of Hyaluronic Acid with Fillers. If you have any question, please feel free to contact us.
Product Categories : Dermal Filler